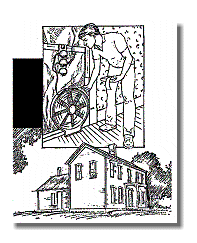 "I must say that the Institute is one of the best learning experiences I have had. I wish all schools were as relaxed and open as yours. The expectations were still high, but we felt at home. I was a director of three Navy schools and then went on to be the Officer in Charge of more than five Engineering schools. What you have there is what I wished for. Thanks for the super learning experience." Mark H. Corpus Christi, TX
A class agenda and registration form are available in Adobe PDF format at the bottom of this page. Many questions about becoming certified and operating as a rater are answered on our FAQs page.
Description:
Successful completion of this training is the first step toward becoming certified as a professional home energy rater. As an energy rater, you will be able to produce energy rating reports that will help home buyers and homeowners qualify for financing incentives through a variety of private and government loan programs. KBSI's rater certification training is accredited by the Residential Energy Services Network (RESNET).
This workshop will teach you how to evaluate the energy performance, comfort and safety of a house through a comprehensive, whole-house diagnostic procedure. You will learn:
about the hidden flaws often found in standard construction that can cause discomfort, high utility bills, moisture problems and indoor air quality problems
how to use powerful new tools to find and correct flaws in a building's thermal envelope
how to evaluate and sell the economic benefits of solutions to these problems by using cutting edge energy analysis software -- software that will also provide precise sizing of heating and air conditioning equipment
a sound understanding of building science principles and residential energy use
how to use state-of-the-art diagnostic tools, including the blower door
how to conduct a comprehensive diagnostic analysis of a home
how to produce a complete home energy analysis using REM/Rate™
how to produce an IECC compliance report
how to create or expand your business selling home comfort and diagnostics
how to size heating and air conditioning systems for new or existing homes
Class size:
Attendance is generally limited to 12, so early registration is advised. KBSI reserves the right to expand class size at its sole discretion.
Next scheduled dates:
Please see schedule page.
Registration Fee: Registration fee is $1,250 per person. A discount of $50 per person is offered for two or more registrations from one company or agency to the same workshop. There is a $150 per student cancellation fee. No refund is granted if cancellation notice is received less than seven days prior to the start of the training. Substitutions may be made.
There are additional exam fees. Please see the class brochure for additional information (link is below).
Students are required to bring their own laptop computer.
For more information about the class or to register by phone, please call, toll-free 785-537-2425. Kansas Building Science Institute is committed to making services, activities and programs accessible to all participants. If you have special requirements due to disabilities or dietary restrictions, please contact KBSI at least two weeks before the start of the workshop.
Registration: To register for this class, click here to download and print the registration form.
---
The agenda and registration form are provided in Adobe PDF format. To download, view or print, you must have Adobe's Acrobat Reader installed on your computer. To download Acrobat Reader for free, click on the button below.


HERS Rater Training Agenda and Registration Form