The Kansas Building Science Institute (KBSI) was founded in 1996 to provide building science and energy performance training for the weatherization, home energy rating, utility, and building trades.

KBSI conducts home energy rater certification training accredited by the Residential Energy Services Network (RESNET). KBSI has trained and certified energy raters in more than 38 states and Canada. KBSI is also an affiliate of the Building Performance Institute (BPI).

Select one of the following to find out more about:

TRAINING CENTER:
KBSI operates a dedicated building science training facility. Located just outside Manhattan, Kansas (home of Kansas State University), KBSI's facility includes a 3,000 square foot training center, an attached two-story residential structure and an adjacent furnace lab.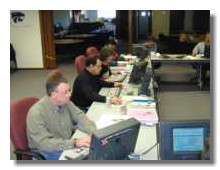 The training center houses a spacious multi-media classroom. Comfortable executive-style chairs are provided for all students. Meals are served on-site in the training center's banquet room. The facility is situated in a relaxing, wooded setting.
Telltale House:
KBSI's Training Center features a Telltale House which is a sophisticated plexi-glass model that demonstrates the problems air pressures can cause in houses. As various fans and appliances are operated, you'll see the "telltale" results, made visible by air motion indicators and smoke generators. You'll learn how simply closing an interior door can increase energy waste, reduce comfort and cause combustion appliances to become hazardous.
RESIDENTIAL STRUCTURE: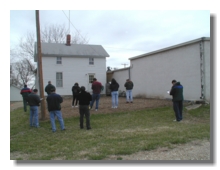 The residential structure serves as KBSI's full-scale building science laboratory. Typical of early 1900's construction, the balloon-framed structure is used for:
hands-on blower door training
pressure diagnostics training
furnace testing
general energy auditing
FURNACE LAB: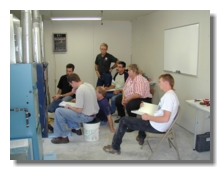 KBSI's furnace lab features four operating gas forced-air furnaces. The lab permits each student to gain hands-on experience conducting a detailed furnace inspection and diagnostic protocol. In addition to the four natural draft furnaces in the furnace lab, KBSI's residential structure features an operating water-source heat pump, draft-induced furnace and sealed-combustion condensing furnace.
Mobile Home:
KBSI's mobile home is used in weatherization training and for the Weatherizing Mobile Homes class. Typical of pre-1976 construction, the home features ample thermal and air leakage problems that are discovered in the course of auditing and testing the structure. The home also features a functioning mobile home furnace. Participants enjoy the challenge of seeing how much they can reduce the home's ample air leakage through the strategic application of temporary air sealing materials.
HOW TO GET TO KBSI:
KBSI is located at 200 Zeandale Road (Kansas Highway 18 East) on the southeast side of Manhattan, Kansas. Manhattan is approximately 120 miles west of Kansas City on I-70, then 8 miles north on Highway 177.
Click here for a map showing the KBSI location.
KBSI's participants come from all over the United States and Canada, making our central location a key advantage. The Kansas City International Airport (known locally as KCI) with 277 daily flights is an easy connection from most U.S. hub airports. KCI also is recognized as an efficiently designed facility and has been ranked as one of the most user friendly airports in the world. Kansas City is ranked the third most economic flight destination in the United States.
If you're flying to KCI, please note that the airport's official FAA code is "MCI." And, even though your destination is Kansas, the airport is actually located in Missouri.
Manhattan Regional Airport (MHK) is a more local option for getting to KBSI. MHK is home to Great Lakes Airlines, which operates four daily departures to Kansas City (MCI), and three departures to Denver (DEN). Flying to Manhattan is easy and cheaper than Kansas City when compared to driving, and a one-way ticket to Kansas City is only $69. Additional airline service begins August 25th, 2009 with the arrival of American Eagle Airlines, which will offer twice daily service to Dallas/Ft. Worth with competitive pricing on 50-seat regional jets. MHK's contemporary terminal hosts Hertz and Enterprise rental car facilities.
Additionally, the KCI Roadrunner operates 11 daily van services between KCI Airport and Manhattan.
For complete information on travel to, from, in and around Manhattan, click here.
WHERE TO STAY IN MANHATTAN:
KBSI recommends the Fairfield Inn by Marriott because of its proximity to the KBSI Training Center (approx. one mile). It is located in Manhattan's central business district across the street from the Manhattan Town Center Mall. There are six restaurants within easy walking distance of the Fairfield. Call 785-539-2400 for reservations. Be sure to ask for the KBSI rate.
Click here for a complete list of Manhattan lodging accommodations, including bed and breakfast inns.
More travel links are on our "links" page.
THE STAFF:
Doug Walter is KBSI's President. He holds a Bachelor of Architecture Degree from Kansas State University. He has taught building energy principles for 30 years. He serves as a consultant and trainer for the Kansas Weatherization Assistance Program and has served on the US Department of Energy's National Health and Safety Working Group and Region VII's Technical Working Group, as well as serving on the Affordable Comfort Conference Program Committee. He has served on the Board of Directors of RESNET and currently serves on its Training and Education Committee.
Rob DuTeau is KBSI's Training Director. He is a mechanical engineer with a master's degree in petroleum engineering/geothermal. Before joining KBSI he taught mathematics at Friends University in Wichita.
Tom Mahoney is KBSI's Rating Services Director. He has a degree in Mechanical Engineering and an Associate Degree in Solar Engineering Technology.
Tom Chavey is a trainer for KBSI. He has been involved in housing programs for twenty years as a contractor, inspector and trainer. He is a certified Home Energy Rater, Kansas Weatherization Inspector, and Housing Quality Standards Inspector.
Nancy Leitnaker is KBSI's office manager.
Notice of Nondiscrimination
: Kansas Building Science Institute is committed to nondiscrimination on the basis of race, gender, national origin, disability, religion, age, sexual orientation or other nonmerit reasons in its educational programs, professional services and employment.