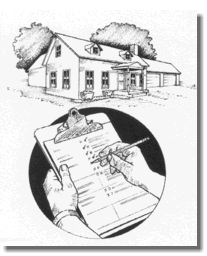 "The Housing Quality Standards session was very informative and enjoyable. We will recommend it to anyone working on HUD or related housing projects." Kent P.
This workshop will lead you to certification as a Housing Quality Inspector. Housing Quality Standards (HQS) are used as the basic inspection criteria for many federal and state housing programs. While the HQS inspection criteria have been in use for many years, there remain numerous inspection protocols addressing the safe operation of mechanical and electrical systems that are not well defined. This training provides a framework for conducting a basic HQS inspection and provides the inspector with additional skills and knowledge required to assess many of the health and safety issues surrounding mechanical, plumbing and electrical systems.
In addition to classroom training, there will be a mock inspection conducted as part of this workshop. Teams will review all criteria in the inspection and present to the group those items needing remedy.
An exam will be offered for those who wish to become certified.
Class size: Registration is limited to 18. This class fills quickly, so please register early.
Next scheduled dates: Please see Training Schedule page for dates.
Registration Fee: Registration fee of $675 includes workshop materials and refreshments. A kit of receptacle test tools may be purchased for an additional $35. Refunds require receipt of cancellation notice 48 hours prior to workshops. Substitutions are allowed.
Registration: For more information about the class or to register by phone, please call, toll-free: 785-537-2425. Kansas Building Science Institute is committed to making services, activities and programs accessible to all participants. If you have special requirements due to disabilities or dietary restrictions, please contact KBSI at least two weeks before the start of the workshop.
---
The agenda and registration form are provided in Adobe PDF format. To download, view, or print, you must have Adobe's Acrobat Reader installed on your computer. To download Acrobat Reader for free, click on the button below.


HQS Brochure and Registration Form

HQS Re-certification Brochure and Registration Form