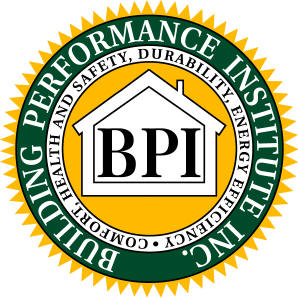 This three-day training will lead you to certification as a Building Performance Institute (BPI) Building Analyst I.
BPI is a national organization promoting building science practice in the residential contracting trades. BPI certification provides third-party assurance to consumers that the contractors they hire understand the complex interactions of building systems and are equipped to effectively identify and mitigate potential problems.
The Building Analyst I certification is earned upon successful completion of a written, knowledge-based exam and an in-field, performance-based test. The performance test will be offered as an option following the three-day training course.
The course will cover building science principles, health and safety issues, envelope and duct leakage testing, insulation evaluation, and combustion safety testing. An agenda and registration form may be downloaded below.
Class size: Registration is limited to 18. Only 10 people will be accommodated for field testing in the three days following the training. Field testing will be scheduled on a first-come, first-served basis.
Next scheduled dates: Please see Training Schedule page for dates.
Registration Fee: Registration fee of $650 includes workshop materials and the BPI Building Analyst I written exam. Lunch and refreshments are provided each day of the training. The field test fee is $500. Refunds require receipt of cancellation notice 48 hours prior to the start of workshop. Substitutions are allowed.
Registration: For more information about the class or to register by phone, please call, toll-free: 877-537-2425. Registration forms may be faxed to 785-537-2440.
---
The agenda and registration form are provided in Adobe PDF format. To download, view, or print, you must have Adobe's Acrobat Reader installed on your computer. To download Acrobat Reader for free, click on the button below.
-


BPI Training and Registration Form